What is EN (European Standard)?
European Standards are a statement of specifications for goods, methods, or services that must be suitable for a certain use.
Each European Standard is identified by a unique reference code and begins with 'EN'. EN stands for European Norms. European Standards (abbreviated as EN; from the German Europäische Norm, "European Norm"). The European Committee for Standardization (CEN), the European Committee for Electrotechnical Standardization (CENELEC), and the European Telecommunications Standards Institute have all ratified technical standards that are included in (ETSI). In a transparent, inclusive, and mutually agreeable process, all concerned stakeholders develop and produce ENs.
To show how the helmet worked to the journalists in the image, the helmet's inventor rushed head-first at a wall.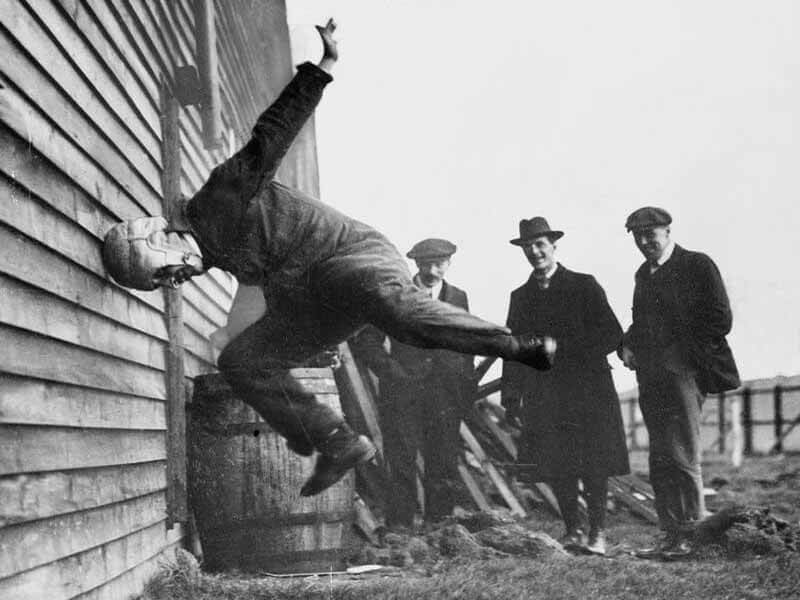 The EN standard is unique to the EU (Europe); it consists of safety, health, and environmental requirements for EU member states.
Only goods that adhere to European criteria are permitted to be sold on the EU market. Each European standard is designated by a special reference number that begins with the letters "EN" and is recognized in a wide range of industries.
The Single European Market relies heavily on European Standards. They play a significant role in promoting trade and are well-known among manufacturers both inside and outside of the European Union. A standard is a model specification that is a technical answer that a market can trade-off. All EU members must convert European Standards into national regulations.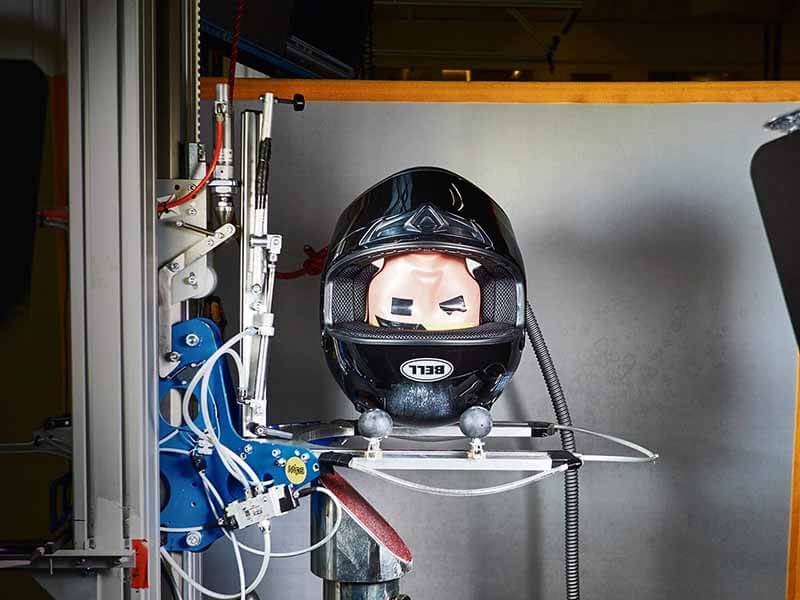 When using European Standards, this ensures that a company will have easier access to the markets of all these European nations. The EN trumps any national norm, thus member nations must likewise revoke any that clash.
EN Standards have a favorable effect on promoting rational production, environmental protection, competitiveness, and proper consumer protection in the internal market. They also make it easier for commodities to move freely in international trade. Currently, using EN-certified technical suggestions is optional and not required.
Additionally essential to Europe's market dominance and a foundational element of the Single Market are European standards. If Europe is to achieve the goals it has set for itself through the European Green Deal, Digital Strategy and New Industrial Strategy, they are essential.
The EN standard is accessible at all phases of development and application in practice, such as publicly available documents. These European Standards, in contrast to legislation, when addressing basic issues agreed upon by all parties, may arise without consultation and permission of all the related papers.
Standards are voluntarily agreed-upon recommendations that outline the technical requirements for certain products, processes, and services. You may be certain that your business and the items you produce comply with all relevant legal requirements by adhering to EU standards. Following standards may also boost consumer trust in your goods and services since they improve quality, safety, and dependability.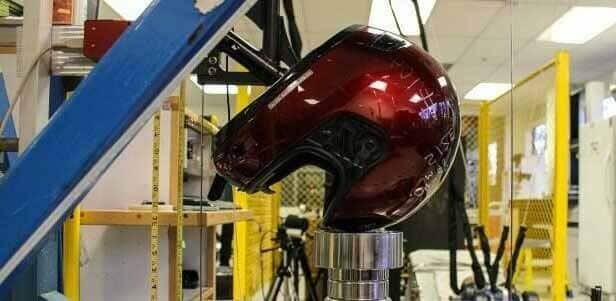 Principles of European Standard
Voluntary: If the EN standard is relevant or helpful to the product or service, it is entirely voluntary for that product or service to apply the standard.
Harmonized: The EN standard's implementation must be in accordance with and harmonized with all European directives.
Mandatory: In some circumstances, compliance with EN standards stated in documents is required.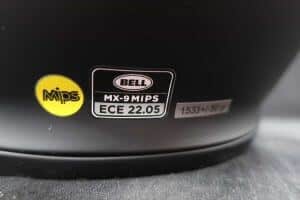 Who Makes EN Standard?
International Standardization Organizations (ISO, IEC, ITU), European Standardization Organizations (CEN, CENELEC, ETSI), National Standardization Organizations, Consortia, individuals, and small enterprises are all responsible for creating standards.
European Standardization Bodies
1. European Committee for Standardization, or CEN
The National Standardization Bodies of 33 European nations are united through CEN, the European Committee for Standardization. CEN works in a variety of industries, including chemistry, building, consumer products, energy, environment, food, healthcare, health and safety, heating, cooling, ventilation, and air conditioning, as well as the information society, materials, mechanical engineering, including machinery and pressure equipment, metrology, nanotechnology, security & defense, services, and transport.
2. European Committee for Electrotechnical Standardization (CENELEC)
The European Committee for Electrotechnical Standardization, or CENELEC, is in charge of establishing standards for the discipline of electrotechnical engineering.
3. European Telecommunications Standards Institute (ETSI)
The European Telecommunications Standards Institute (ETSI) creates information and communication technologies (ICT) standards that are applicable worldwide. These technologies include fixed, mobile, radio, convergence, broadcast, and internet technologies.
International Standard Bodies
International Organization for Standardization
International multisectoral organization for standardization that operates in all sectors except for the electrotechnical and telecommunications sectors.
IEC: International Electrotechnical Commission,
A global organization operating in the field of electrotechnology
ITU: International Telecommunication Union,
A global organization working in the telecommunications industry
Where To Find European Standard?
The corresponding Catalogues of the European Standardization Bodies include a list of European Standards (CEN, CENELEC, and ETSI). On the relevant catalogs of the National Standardization Bodies, you may find the national adoptions of the European Standards.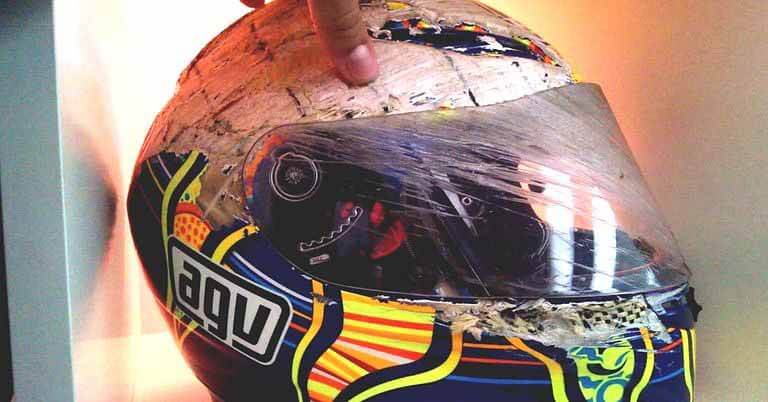 One of three European standardization bodies, CEN creates standards for a wide range of goods, components, processes, and services. Chemicals, construction, consumer goods, defense and security, energy, food and feed, health and safety, healthcare, digital industry, machinery, or services are some of the industries covered by CEN. In Europe, CEN embraces ISO standards by using the prefix "EN ISO" (see also Vienna Agreement). European legislation and regulations frequently refer to CEN standards, as in the cases of CENELEC or ETSI European Standards.
Benefits of Standards
Standards provide several advantages for the European industrial sector. Standards aid manufacturers in cost reduction, foreseeing technological requirements and improving creative and productive efficiency. The European Commission acknowledges that standards have a positive impact on commerce, the development of a single market for goods and services, and innovation.
EN Standards: An Overview
Unless your product has been harmonized and compliance with EN standards is required by one or more CE directives, it is not legally required that you do so. In any event, importers are liable for any accidents brought on by dangerous items, and EN standards are an excellent guide for developing helmets. To verify that imports into the EU meet safety standards, EN standards specify typical helmet parameters, test methodologies, and processes. Importers can profit from the shared knowledge of safety helmets and their usage as production-facilitating equipment.
EN standards For Helmets
EN 397, which protects against falling objects,
EN 14052, which are high-performance industrial helmets,
and EN 50365, which are insulating helmets for use with low voltage installations.
Standards Testing For EN    

                                                                                      
Intertek, Bureau Veritas, and SGS are reputable test organizations that can assist in determining the appropriate EN standards for your helmet product, execute lab testing, and grant certification in accordance with those standards.
ECE 22.05 score
Economic Commission for Europe is referred to as ECE. They have developed various rules, like "guideline 22," to establish a European standard for road safety. The minimal specifications for a motorcycle (or scooter) helmet are listed in this guideline. By doing this, they have established a sort of minimum standard for safety for helmets marketed throughout Europe. In 1982, the ECE 22.02 certification, the first ever for helmets, was released. The version of the rating is indicated by the attachment after "22." We are currently using version 05.
ECE 22.05, is upheld by all member states of the European Union as well as other nations including New Zealand, Japan, and others. It outlines certain testing procedures, like as label specifications for motorcycle helmets and crash tests.
Helmets must additionally have a mark with the design. Where EX is the country code: "EX 05A/B-C",
The regulation version is 05, and the most recent version is 22.05.
A stand for the helmet's approval number B for the level of protection it provides
The helmet's serial number is C.
One benefit is that before helmets are made available to the public, they must pass required batch testing under ECE 22.05. This means that the ECE 22.05 standard is satisfied because every production of helmets must pass required sample testing before they are shipped out of the factory.
Key Points of ECE-22.05 Standard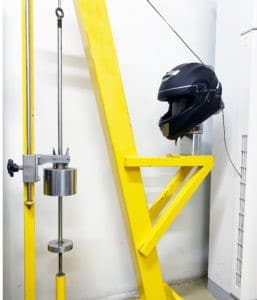 ECE stands for the "Economic Commission for Europe," which was established in 1958 in accordance with a United Nations resolution. Section 22.05 relates to the regulation where the testing criteria are laid out.

The ECE standard shares many characteristics with the DOT standard, such as the need for peripheral vision in a 105° arc from the middle of the helmet.

Like the DOT standard, impact absorption testing is done by dropping an object from a specified height onto a steel anvil that has a head form placed inside to measure the energy imparted. Peak-Acceleration energy at the head form is limited to 275 G to pass the test. In any areas where any surfaces or components protrude from the helmet's shell, impact absorption and rotational forces are also put to the test.

A free-fall drop test with a 10-kilogram (22.0 lb) weight from a height of.75 m (29.5 in.) tied to the chin strap is used to evaluate the retention mechanism. There can be no movement of the attachment point greater than 35mm (1.37 in).

Another test evaluates the stiffness of the helmet's shell by observing how the shell deforms while increasing loads of up to 630 Newtons are applied (141.6 lb.).

ECE 22.05 also addresses the performance of a helmet's visor, provided one is an important component of the helmet. In a different standard known as VESC 8, the DOT establishes requirements for visors and other eye-protective equipment (Vehicle Equipment Safety Commission). There is no penetration resistance test in the ECE standards.

There are a few areas where the DOT and ECE standards disagree, for example, The helmet's surface is tested for abrasion resistance, however, for this test, the performance criteria specify that the surface either breaks away or allow the test surface to pass through the helmet.

The helmet's capacity to transmit twisting force to the wearer's head and neck is therefore diminished. Snaps, rivets, and other protrusions from the helmet cannot be larger than 2mm.

Requirements for retroreflective materials are included in the ECE standard and may be applicable to member nations.

The ECE system needed batch samples when the product started, submission of over to 50 sample helmets bills to a designated government laboratory using the ECE norms under the United Nations agreement, and verification of quality control during ongoing product, in discrepancy to the DOT system where the product isn't subject to third- party testing before the trade.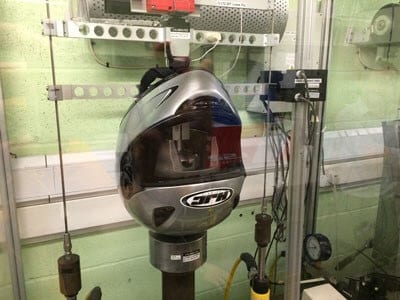 List of EN Standards For Motorcycle
Gloves with protection for professional motorcyclists, according to EN 13594:2002. Test procedures and requirements
Protective gear for professional motorcycle riders, according to EN 13595-1:2002. jackets, pants, and one- or two-piece suits. basic prerequisites
Protective gear for professional motorcycle riders, EN 13595-2:2002. jackets, pants, and one- or two-piece suits. The test procedure for assessing impact abrasion resistance
Protective gear for professional motorcycle riders, according to EN 13595-3:2002. jackets, pants, and one- or two-piece suits. Method of testing to determine burst strength.
Protective gear for professional motorcycle riders, according to EN 13595-4:2002. jackets, pants, and one- or two-piece suits. Test procedures for assessing impact cut resistance
EN 13612: In-vitro Diagnostic Device Performance Evaluation
Protective footwear for professional motorcycle riders, EN 13634:2002. Test procedures and requirements.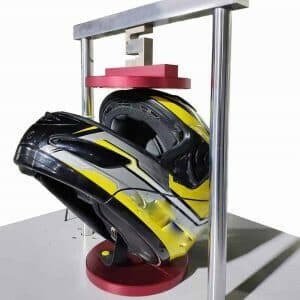 Codes of ECE 22.05 For Helmet Approval
The ECE standard uses the following codes that must specify the kind or arrangement of the helmet to which the approval is applicable:
"J" if the helmet lacks a lower face cover,
"P" if the lower-face cover is protective,
or "NP" if the lower face cover is not protective
stated as ECE 22.05NP, ECE 22.05J, and ECE 22.05P.
What Is Covered By The ECE 22.05 Approval?
This approval entails that the helmet is put through a series of tests to see if it provides enough protection to be allowed for usage on European roads. To gauge the degree of protection, for instance, crashes are simulated. Other considerations are the size of the field of vision when wearing the helmet or the chin strap (does it stay on your head after a fall?).
Lower Impact Energy/Velocity
The highest threshold for this standard is 275 Gs. ECE 22.05 tests on two anvils—flat and curbstone—at slower velocities than the Snell standard, although DOT and Snell required two hits on every particular spot on the helmet. As a result, impact testing is less rigorous than that of either the Snell M2015 or DOT standards. Also absent from ECE 22.05 is a shell penetration test.
Unquestionably, the ECE standard precisely specifies which parts of the helmet may be damaged during testing. Snell and DOT, in contrast, provide technicians the freedom to identify the helmet's weakest points and expose those areas to impact. Some critics of the ECE method contend that by defining and limiting the areas of a helmet that may be subjected to impact testing, the standard may unintentionally lead to the production of helmets that easily pass the ECE test but only provide minimal protection.
Wide Range of Non-Impact Tests
In comparison to Snell M2015 or DOT, ECE 22.05 puts helmets through a larger battery of safety testing (going beyond impact and penetration tests). For instance, this standard evaluates how rough the helmet shell is. The rider's head is likely to spin more while wearing a helmet shell that displays a high level of friction upon impact. As a result, there may be a greater chance of traumatic brain injuries and rotational accelerations. The purpose of the ECE's abrasion test is to assist manufacturers in creating helmets that reduce the amount of twisting forces communicated to the head and neck. The ECE standard also specifies how to assess the stiffness of the helmet shell by monitoring how much it flexes in response to weights up to 630 Newtons. Like Snell, the ECE forbids manufacturers from certifying themselves as meeting its standards. Instead, the ECE mandates that every producer sends a batch of helmets to a recognized outside laboratory tasked with confirming that the submitted helmets meet the standards of the standard.
The ECE 22 helmet specifications are performance-driven rather than design-driven. By maintaining the degree of safety, they do not hinder adequate ventilation, making these helmets suited for tropical climates.
ECE 22.05 And Competition
Nearly all professional motorcycle racers contending in world championship road racing, motocross, and off-road events, including the high point sport of Moto GP, elect helmets certified to the ECE22.05 standard. These helmets are approved for competition events by the AMA, CCS, FIM, Formula- USA, and WERA.
The highest level of practical protection is provided by helmets that have earned DOT and ECE 22.05 certifications. They also have the added advantage of being lightweight for all-day comfort and rider performance.
ECE 22.05 TO ECE 22.06
The legal standard for helmets since 2000 has been ECE 22.05. The more contemporary ECE 22.06 standard will take the place of the older ECE 22.05 standard later this year.
Before we begin, it should be made clear that the ECE is unrelated to the European Union and won't be harmed by the UK's withdrawal. The true organization is the United Nations Economic Commission for Europe, whose members include the United States, Canada, Israel, Kazakhstan, and others. Let's assume once more that you want your Arai to have the BSI Kitemark from the 1980s. There is no indication that the UK will depart from the ECE regulations anytime soon.
Thus, our helmets will soon start to bear the ECE22.06 nonsupervisory label. further rigorous impact testing, such as a new "rotational impact" test, and modifications to account for improvements in helmet technology during the previous 20 years.
Impact Test
The impact tests are being broadened in a variety of methods, including by dropping helmets on hard test surfaces and measuring the transmitted force inside a test "head" for a dummy. A slow-speed impact test will also be performed, and the maximum impact velocity will rise from 7.5 m/s to 8.2 m/s. This is important because "secondary impacts"—which might happen after a collision when a rider isn't moving as swiftly but still hit their head on the pavement—can still happen. The research found that helmets that are effective in high-speed collisions are less safe in low-speed impacts because their structure is too inflexible to bend and sufficiently absorb impact energy. Finally, new locations—up to 18—on the exterior helmet shell will be utilized.
In an ECE 22.05 test, a helmet-mounted dummy head-form with force-measuring accelerometers is dropped at a predetermined speed onto an anvil, which is a flat, solid surface.
This portion of certification requires the helmet to successfully limit energy transmission to the wearer's head as determined by the accelerometers in the head form.
The impact testing technique will be improved by ECE 22.06, which will test at various speeds, with varying angles of impact, and by examining the impacts on various parts of the helmet.
To test at collisions with both greater and lower speeds, the range of impact speeds will be expanded. It is believed that helmets made exclusively to survive high-speed hits may be excessively stiff for impacts at lower speeds, endangering the safety of the user.
Rational Test
The rotational impact test, a novel method of examining the lids, assesses how rotational or "twisting" pressures are transmitted to the brain. A "grazing" impact on a curb or car bonnet will be simulated by dropping the helmet onto an inclined anvil. The new test examines how each helmet design reduces the possibility that the brain may experience these kinds of abrupt, jerking twists in the event of a collision. Here, it will be helpful to have an exterior shell that is smooth with a lid with few protrusions that it can "grip" onto in an accident and an inside liner that has a mechanism to prevent any twisting action away from the skull.
The last revisions to impact tests affect visors, which must now withstand projectiles of higher energy to prevent breaking from a harsher "stone-chip thrown up by a car on the highway" scenario.

ECE 22 rules will also be updated to reflect current advancements in helmet design. Things like action cameras, smartphone speakers, clip-on Bluetooth adapters, and microphones weren't available in 1999 when the 22.05 standards were being finalized. The ECE will conduct testing with these accessories installed to ensure that they have no impact on a lid's functionality. This isn't a complete solution yet because it only applies to "official" accessories that are provided by the manufacturer as authorized components. But it should mention whether there are any add-ons.
Angled Impact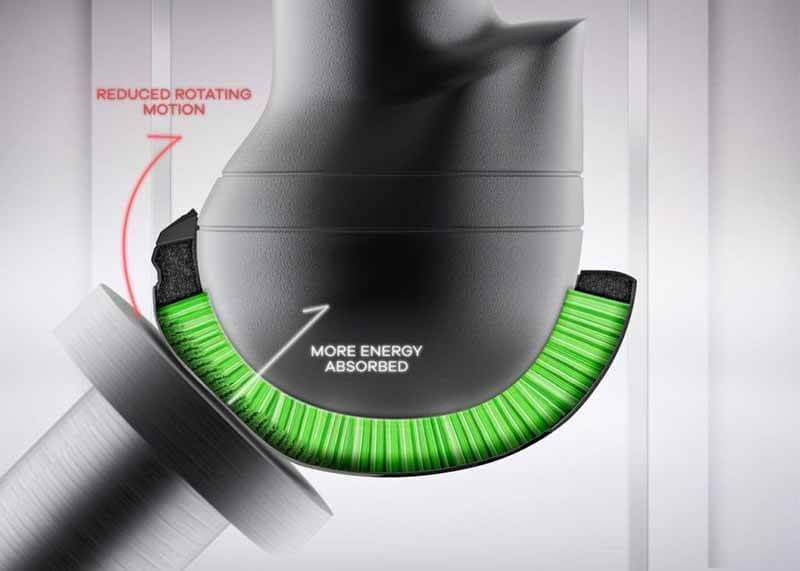 It is crucial to shield the head and brain from all angles of contact, but it is also commonly acknowledged that angled hits can result in severe brain injury because of the twisting, which can happen even when there isn't much impact velocity. In addition to direct hits, helmets will also be subjected to angled impact testing (on an anvil at a 45-degree angle) as part of the ECE 22.06 rotational acceleration testing.
Helmets are dropped from a predetermined height onto a variety of surfaces in accordance with ECE 22-05 and 22-06 to assess the helmet's capacity to deflect impact energy.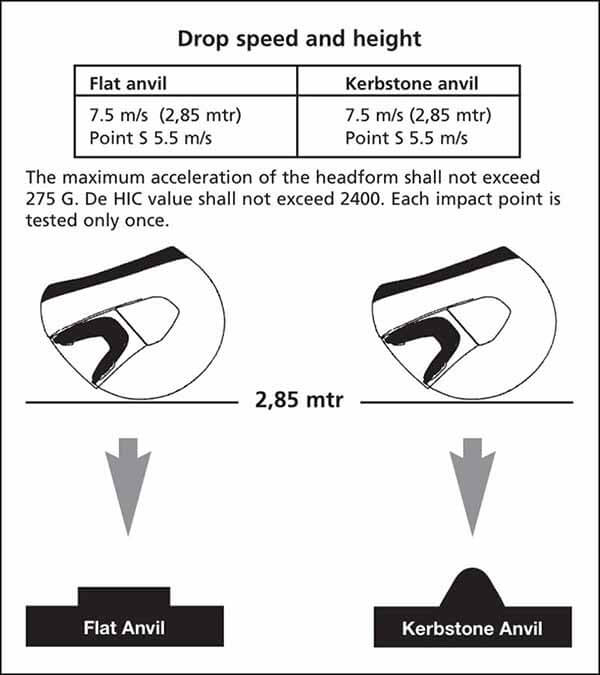 Therefore, there is a sizable set of extra tests for lids. When will these new, maybe safer helmets be available? By this summer (2020), the final regulations may be in place, and helmets might come soon after. However, it won't be until at least 2021 before they are available. If you need a new helmet in the meantime, don't worry—ECE 22.05-compliant helmets will continue to be recognized for use on public roads, just like the BSI-stamped helmets did when ECE 22.05 took over.

Since internal sun visors and flip-front helmets are both far more widespread today than they were in 2000, the ECE regulations will also apply to these new advances. Sun-visors will now need to adhere to a specific darkness level, and The chin bars of flip-lids will be tested both open and closed (these can be a little darker than at the moment but must be used with a clear main visor).

With the 22.05 permission, Dealers will have three years to sell off their helmet stocks, but once the 22.06 regime is in place, you can expect supplies to disappear quickly. It's also crucial to remember that many pricey helmets now available comply with ECE 22.05 criteria. with ease, meaning they might possibly meet ECE 22.06 requirements as of right now.

a belief that the energy absorption criterion imposed by ECE 22-05 was not high enough.

Dropping the helmet upon an anvil or a kerbstone served as the standard method under ECE 22-05 for measuring energy absorption. An artificial head that is within the helmet is equipped with accelerometers that track energy absorption. The helmet is dropped at a speed of 7.5 meters per second from a height of 2.87 meters, resulting in an impact speed of around 17.5 mph. Although it may not seem like it, most accidents do not entail a direct collision with an object as rigid as an anvil. Frequently, a windscreen or car's bodywork will absorb part of a glancing hit or come together.
The energy absorption level under ECE 22-06 stays the same, although, under the new test regime, helmets will be dropped at a faster but also slower pace.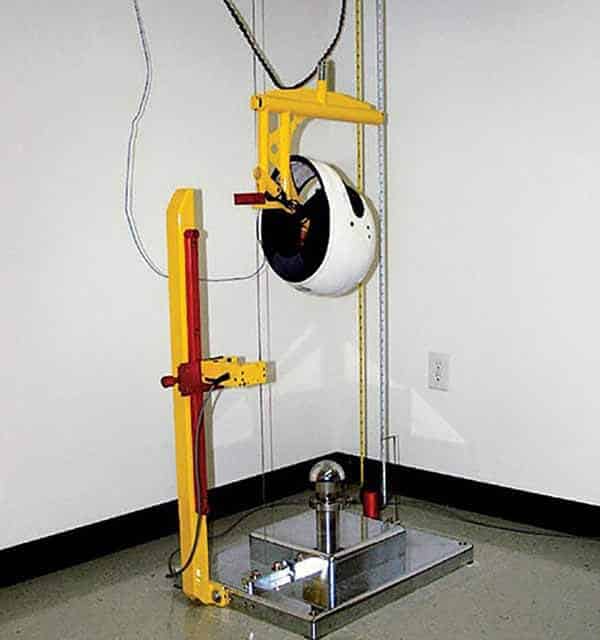 The purpose of ECE 22.06 is to increase motorcycle helmet safety. The low and high-speed impact tests were created since secondary collisions are one of the main causes of injury. A lot of the more recent advancements, such as flip fronts, Bluetooth systems, and inbuilt sun visors, are not covered by the earlier laws and were presumably thought new inventions that needed to be reviewed.
"For end-users, that means that modern helmet designs should provide better protection than their predecessors. 
Difference Between ECE-22.05 And ECE-22.06
Several endurance tests are part of the new ECE 22.06 homologation.

The impact points are the main distinction between the two homologations. Six sites of impact were formed on the shell with homologation 22.05, however, there are 12 more places with homologation 22.06.

An impact test was previously conducted with homologation 22.05 at a speed of 7.5 m/s from a height of 3 m.

To mimic additional impact circumstances in various contexts, the revised homologation includes 3 impact tests at various speeds (i.e., heights):

In addition to being struck at a speed of 8.2 m/s, the shell is also struck at a speed of 6 m/s from a height of 4 meters. Other differences include testing the screen for resistance to collisions and fog.

The rotational impact test, however, represents still another significant distinction between the two homologations. The most difficult test yet is the simulation of an impact in a rotating fashion.

The helmet will display the year it was made.

Measurements and sizes will all be in centimeters.

The use of anti-fog visors and sheets is required.

The light transmission restriction for tinted visors is reduced from > 50% to > 35%. (The color of the Lexan smoke material must be modified).

A high-speed test will be performed on the visors (60 m/s with a 6 mm sphere, ocular regions).

The visors must pass optical tests and have a light transmission rate of at least 20% (now, we are between 14% and 18%; the color of the Lexan smoke substance will change).

Only the cold is modified, going from -20°C to -10°C, and the solvent test is eliminated.

P/J helmets: the tests need to be done both with and without the chin bar, or with it closed and open (red lock control button).

Intercom systems and/or other devices in helmets: testing must be performed with the helmet both "prepared" and with the item fitted.

Chin bar dynamic testing with traction toward the shell's rear

Test of helmet roll from front to rear is included.

If My Motorcycle Helmet Has A ECE 22.05, Should I Change It?
No.
As of June 3, 2022, motorcycle helmets produced and sold in the European Union are subject to the new ECE 22.06 rule. From that point forward, all tests must be conducted in accordance with the obligatory standard 22.06. By 2023, all helmets produced must comply with the new rules. Therefore, because the two standards will cohabit for a few more years if your helmet is homologated with ECE 22.05, there is no need to alter it.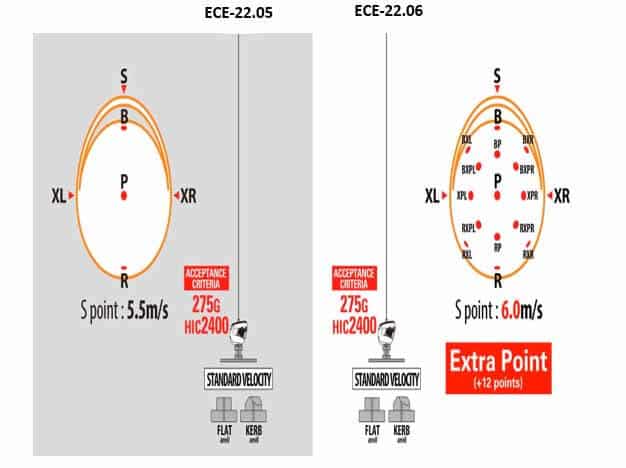 Criticism of ECE Certification
With usage in close to 50 nations, the ECE certification is the most widely recognized standard globally. Even though it is regarded as one of the world's strictest certifications, it nevertheless has its detractors. One of the defenses is that the most recent iteration of the ECE exam no longer includes a penetration test. The helmet's ability to pierce a sharp item is measured by the penetration test (such as a motorcycle footstep or the spike from a fence).
The helmet is always tested for impact at the same location, which is another counterargument. To increase their chances of being approved, a helmet maker should strengthen the area that is evaluated.
In addition, the ideologies of the various helmet manufacturers vary. One manufacturer may be devoted to a shell that reshapes and splits impact energy. Another company would argue that a very robust outer shell is required and that a soft inner shell can act as a crump zone. There is no holy grail, but the ECE standard may be thought of as a minimal degree of safety that is assured.
M/Z