Hopefully, this review is a pretty good snapshot of how safe some of the main helmet brands will perform in an accident, relative to each other.
Top 10 Safest Motorcycle Helmet Brands Today
AGV
Italian helmet maker AGV has been making fine helmets since 1947 and, even though they're now part of the Dainese Group, their protective qualities continue to shine through, providing a benchmark for safety and performance when it comes to protecting riders. From MotoGP to Motocross and every road or trail in between, AGV is dedicated to providing the pinnacle of riding performance. Of 6 AGV helmet models tested since 2016, three scored a maximum of 5 stars (Corsa R, Pista GP-R, and Veloce S), and the rest were four stars, showing you really can trust an AGV. AGV carries DOT certification (US), a European ECE 22.05 safety rating, as well a SHARP rating (UK).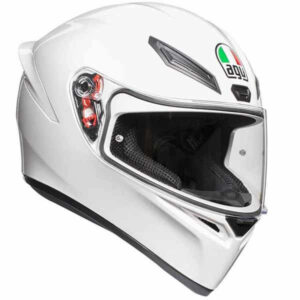 But why aren't AGV helmets SNELL certified? Are they not as good? Or what's the difference between Snell and Sharp ratings? While all the different certification standards strive to offer the best benchmark for protecting their wearer, they achieve this result in slightly different ways. SNELL tends to concentrate more on the anti-puncture properties of a helmet and ultimate protection in a single crash, whereas SHARP focuses more on energy dispersion and the continued protection of a helmet shell through multiple impacts. The two also test impacts at different angles, SNELL focusing on perpendicular impacts, while SHARP on oblique. Though both are excellent brands of safety, they are also mutually exclusive. In order to successfully pass one angle of tests, a helmet will often fail one or two of a different standard's tests and vice-versa. AGV aligns more with the SHARP approach to safety and their helmets carry this certification in the UK. Since SHARP is not a U.S. standard, AGV helmets are produced with DOT ratings for our market.
Shoei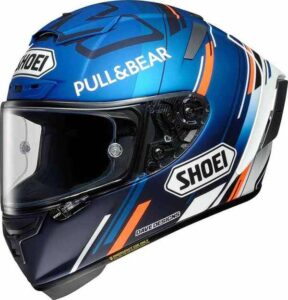 There's very little to choose between Shoei and AGV in 2022. In fact, AGV does edge Shoei when it comes to Sharp ratings of their ECE helmets, but Shoei ranks slightly higher because eight Shoei helmets are Snell certified (remember AGV doesn't do Snell). Shoei is known for producing more expensive, well-built helmets at the top end of the market. All of which shows in their excellent ranking. Across all 14 ECE Shoei helmets tested ever, they've scored an average of 4.14/5, and of their most recently racing tested helmets, both the X-Fourteen and RF-SR scored maximums. They also have a few helmets Snell certified – including the X-Fourteen and RF-1400, so both their ECE and DOT helmets are proven protective lids. All Shoei helmets produced for the European and American markets meet the ECE and DOT regulations. From its MotoGP race team service to world-class racers like Marc Marquez, Bradley Smith, and Malcolm Stewart, Shoei helmets are put through the wringer, resulting in fine-tuned masterpieces.
Arai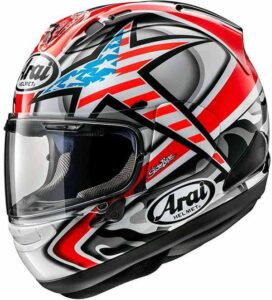 Arai's excellent average score has risen to 4/5 over recent years. Of 6 Snell helmets tested since 2016, their average score has been massively helped with both the Signet-X and Corsair-X, scoring a maximum of 5 stars for safety while all the others scored a fantastic 4 stars. In fact, nobody gets more of their helmets Snell-approved than Arai (most recently including the Classic V and XD4). All of which means – now more than ever – you can trust Arai's latest generation of helmets to perform.
Shark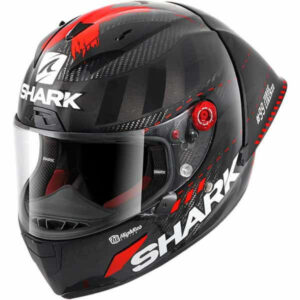 Quality French maker Shark Helmets has had 10 helmets tested by SHARP in the last few years with an average score of 4/5 stars. This is no surprise because whatever the style of helmet and whatever it's been made of, every single helmet tested by Sharp since 2016 scored 4 stars, which is an awesome performance (plus the chin bars on both modulars (including the Evo-One 2) scored 100% – which is a real rarity). All in all an amazing job from the French helmet masters.
Nolan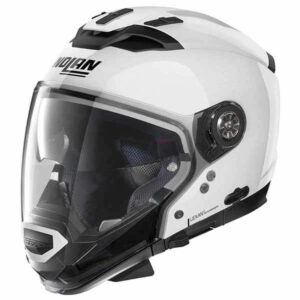 It's the daddy of the Nolan group brands. Every single one of the thirteen tested Nolan helmets have scored 4/5 stars in the SHARP safety test. Just Wow. What's also notable is that each of their tested flip-up helmets scored 100% when it came to keeping their chin bar fully locked – which really isn't easy to do. That's a real testament to their design, manufacturing, and quality control excellence.
HJC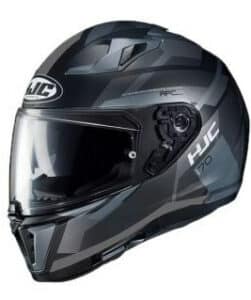 HJC specializes in lower-priced helmets, so you don't have to max out your credit card for great protection. Their reputation is partly because of old favorites like the five-star rated HJC FG-ST and partly because their newer C70 polycarbonate lid hit a five-star rating too. Overall, their 10 most recently tested helmets have scored a very decent 3.8/5 SHARP stars. It's also worth noting that HJC has several helmets Snell approved too – back in the old M2015 certification days before they brought in the 2020 standard. So, helmets like the i10, Motorsport H10 Carbon, and outgoing CL-17 are both great protecting Snell helmets.
Bell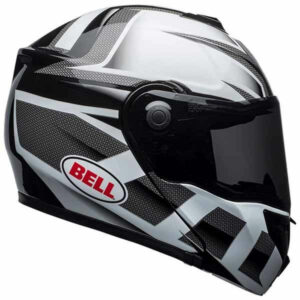 Despite their three-star Bell Qualifier DLX MIPS having spoiled the party a bit, Bell is still doing great. Having said that, Bell has scored a massive 4.27/5 across all 15 tested ECE helmets over the years, which is one of the highest ratings of any helmet brand overall. And, of course, Bell does get a heap of their DOT helmets Snell certified – including the Stars, Moto-9, and SRTs – so, all of those are top-rated for protection. 
Nexx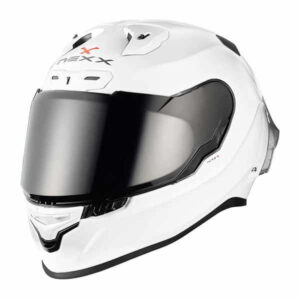 Portuguese composite helmet specialists Nexx don't get their helmets Snell certified, unfortunately, but they've had a few of their ECE helmets tested by SHARP with their most recent XG 100R scoring a very decent 4/5 stars. All their other helmets score 3/5.
Icon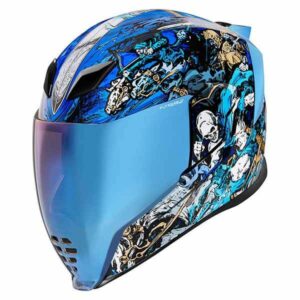 Appealing to the dashing young rider with flash and force, Icon Motorsports and their insane marketing department have been turning heads for the part of the millennia. The company operates very simply, offering just 3 standard full-face helmet choices and one dirt-inspired full-face option. Though their helmets are DOT approved,  they aren't Snell 2010 certified. Many U.S. race tracks require the certification to participate in a track-day event. As far as raw protection is concerned, my vote goes towards anything that is made with fiberglass or, better yet, carbon fiber.
Scorpion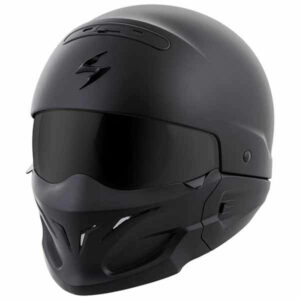 Scorpion Exo has had 20 helmets tested by SHARP over the years, with their most recent 9 helmets scoring a respectable average of 3.2 out of 5 stars. A few of their helmets – including the R2000 and R420 – have been Snell certified too, which is always great to see. They might have low ratings, but don't forget, that they got better performance than lots of big-name helmet makers managed.
Schuberth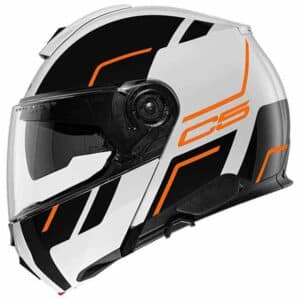 It's probably surprising that, given their reputation for build quality and price, Schuberth could only scrape onto our list in tenth place. But the tests speak for themselves: Of their seven helmets tested so far, they've scored an average of 3 of 5 stars with a couple of quality 4-star helmets being offset by a pair that scored just 2-star ratings. All recently tested ECE and DOT Schuberth helmets scored an average of 3 stars. Remember to replace your helmet after a crash, drop, or five years. Why five? After that time, the adhesive that holds it together and helps it correctly dissipate the force of an impact decays. For that same reason, you should never buy a used helmet. If you can visit a shop to try on different brands. Some fit different head shapes better than others.
M/AL